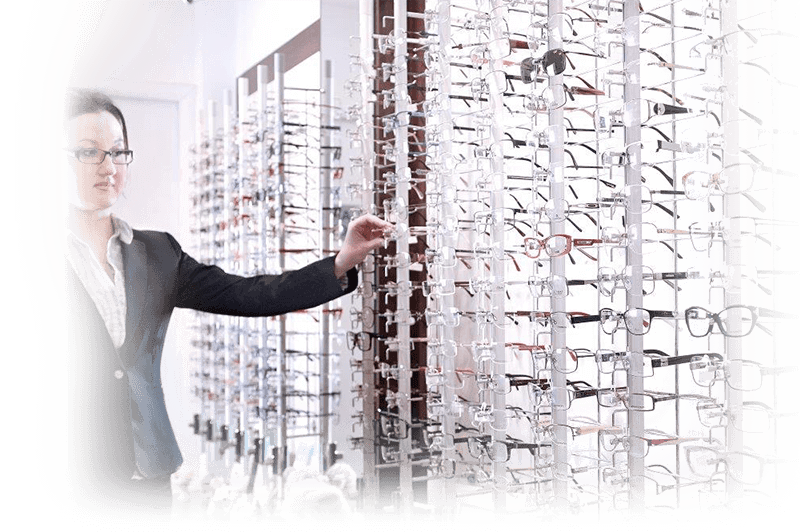 FOUNDED IN 1994, THE OPTICAL SHOP "8IK", IS EQUIPPED WITH MODERN EQUIPMENTS LIKE
NIDEK FROM JAPAN AND BRIOT BRAND FROM FRANCE.
Each year, we participate at the most important medical optics fairs in the world, like Mido – Milano
and Silmo – Paris. Thus, eyeglasses collections in our optic shops are always on the brink of fashion
and of the best quality.
In 2014, we have extended our network, by opening another 3 "" shops within Medicover clinics.
In our stores we offer you: glasses frames, glasses lenses, contact lenses, sunglasses, eyeglass
accessories low vision devices, and others optical devices. Our opticians will guide you through the
process of choosing the product that suits best your needs . It is highly important to wear eyeglasses
or contact lenses according to a medical prescription.
Furthermore, in our days, apart from the obvious utility of glasses, they can become an important
accessory of style So, you should take into consideration your face shape, your skin hair, and eye
color. Of course, you can always rely on the advice of our opticians to choose the best product for you.
Usually, the glasses are mounted on the spot (depending on the type of order).
You can pay with "Card Avantaj – CREDIT EUROPE BANK". You can find out more details regarding the this
mthod of payment at the reception or by calling 0725 OPTICA.
For more details about our products and address information of our 8ik shops we invite you to read
below.
OUR OFFER
The offer of the optic shops "8ik" consists in:
Eyeglasses frames with a wide variety of top quality materials;;
Frames of glasses made of precious metals;
Sunglasses with ultraviolet protection and shock protection, sunglasses with diopters, UV
protection and shock protection, glasses for various sports activities;
Monofocal lenses;
Multifocal lenses (progressive);
Interview lenses (semiprogressive), for intermediate distance;
Bifocal lenses;
Sun lenses with protection against ultraviolet radiation with or without diopters
Photochromatic lenses with protection against ultraviolet rays (these lenses darken their color
to sunlight and fade inside);
Plastic lenses with anti-reflex and anti-scratch treatment;
Polycarbonate lenses, shock resistant and with anti-reflex and anti-scratch treatment;
Lenses thinned up to 50%;
Glass lenses;
Computer glasses made of plastic or glass, which offer high comfort to those who work on the
computer every day;
Lenses for pigmentary retinopathy, Stargardt disease;
Service for glasses of all types;
Accessories for glasses (Solutions for cleaning and maintenance of lenses, pouchs, chains,
silicone cords);
Contact lenses for myopia, hypermetropia, astigmatism;
Aesthetic contact lenses;
Rigid Gas Permeable contact lensses;
Accessories and maintenance solutions for contact lenses;
Electronic devices for low vision users;
BIOCOMPATIBLE GLASSES
HAVE ARRIVED IN ROMANIA!
The material from which the frames are made is the same from which the artificial organs are made.
Pigments that allow color creation come from the food industry
SWING frames have the following properties:
the material has antibacterial properties;
they are anti-allergic;
they are anatomic modern design;
they are lighter than titanium frames (the heaviest frame has 5 grams);
they are organic or biocompatible.
There are models for adults, children, and last but not least, phosphorescence models are available.
WE USE LENSES FOR GLASSES
OF THE HIGHEST QUALITY:
Eyeglass lenses are provided by our trusted partners:
1. Main location:
2. Medicover Victoriei location:
3. Medicover Plevnei location:
4. Medicover Pipera location: